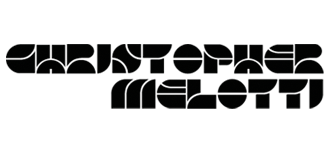 Christopher Melotti is one of Australia's most motivated, down to earth, and musically engaging talents of the century. At only 24 years of age he has taken the nation by storm with the music he has produced.

Christopher is based in Sydney, Australia, and is no average artist. Music has always been the centre of his universe, which is what prompted him to turn this passion into a career. For the past couple of years, Chris has been writing countless songs, beats and instrumentals, experimenting with many instruments, software programs, music patterns, riffs and styles in search of his niche.

His songs are like narratives - "I like to write songs that are meaningful"- iced with touching themes, interesting harmonies, captivating melodies, and unique vocals. "I find the problem with most mainstream songs today is that they are just a 'quick fix'- they have no depth to them – [they are] just generic and shallow."

Christopher's debut album "Post Maturity Revival" features sixteen songs that are eclectic in style and genre, thus appeals to many tastes. Its central theme revolves around life's events, breaking through the mundane, witnessing the journeys we undertake in life and appreciating the experiences we have.

Christopher wrote most of this album in his very early 20s during his first year of full-time work, just after completing university, and was very interested at how everyone of all ages behaved once they were in a 9 to 5, Monday to Friday job.

Fast-forward to 2011 and Christopher Melotti is now working with the Blue Pie Production team and is signed to one of the world's leading independent label, Blue Pie Records. His music will be digitally distributed for all fans and RnB/dance music lovers.

With a new album on the horizon, Chris Melotti's sound is taking a bit of a turn. Focusing more on dance, RnB and electronic musical patchworks. Defining a style is a sign of an artist's maturation, and Christopher has reached this destination of maturity.
Christopher Melotti is part of the Blue Pie Family of Artists. For More Information on Blue Pie Please Visit www.bluepie.com.au